On Thursday, March 24th I took my longboard and went home after work, packed quickly, taking my basic stuff for 10 days. A few minutes later I was in a car heading towards Ljubljana, where the president of the HI Slovenia Igor Jurišič, and we picked up two volunteers Ana and Pia. After less than three hours we came to Bovec. The road over Vršič was close due to snow, so we went pass Jesenice and over the Italian pass. Through the cold and darkness we reached the sign BOVEC.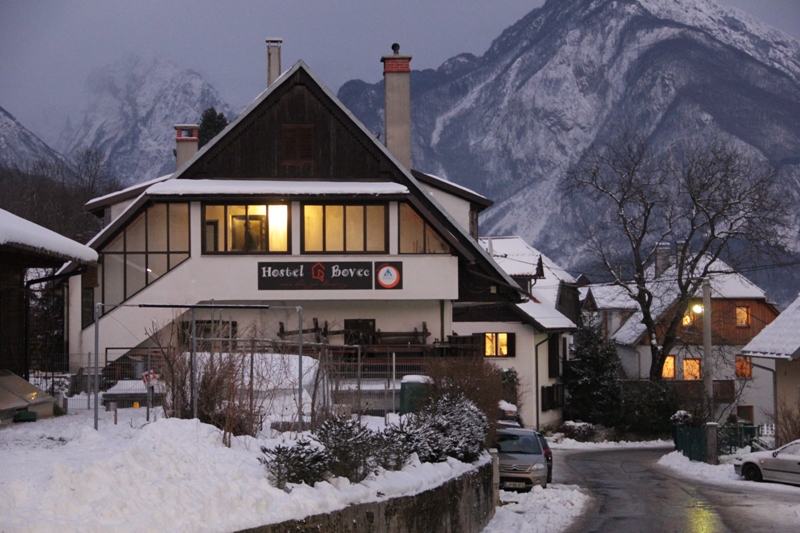 We stopped in front of the
Bovec hostel
reception. It's taken care of by Sanel and Samo, who are also the owners. We got the keys of the room and settled in. Beds were freshly made and the huge bunks smelled of new wood and under each one there was a locker, where I put my treasures in. Next we went forth to the living and dining room, where the manager built a fire in the fireplace and made a fire. The smell and feel of hot fresh wood was phenomenal. The view outside the window was straight out of a fairy tale. Tall, mighty mountains with snow tops greeted me and welcomed me into a totally different world. I remembered that River Soča was where they filmed the Narnia movie and a smile came to my face, never leaving it. We were sitting in the room and slowly volunteers came to the project workshop: »
Write a project improve your competencies
«. They came from Poland, Romania, Bulgaria, Italy, Switzerland, Spain and Lithuania. We started introducing ourselves and all of the sudden the room was full of new names such as Ana, Maya, Kashia, Anna, Inma, Dominika, George, Camila, Vladica, Fabio, Roberto … and my first thought was: "How will I remember all these names?" Let me tell you a secret, next morning when we sat down after breakfast and made a circle, we started to remember names. The first trick was by the coaches who presented us a motivation game: say a name and make a gesture. Everybody in the circle repeated the gesture and said the name of the person before. I can still remember all the names, but the one that stuck the most was of the Bulgarian visitor – Gloria, who showed a heart and said her name. the game was successful and in less than half an hour we knew each other. So we went on with didactic games that will help us in further meetings.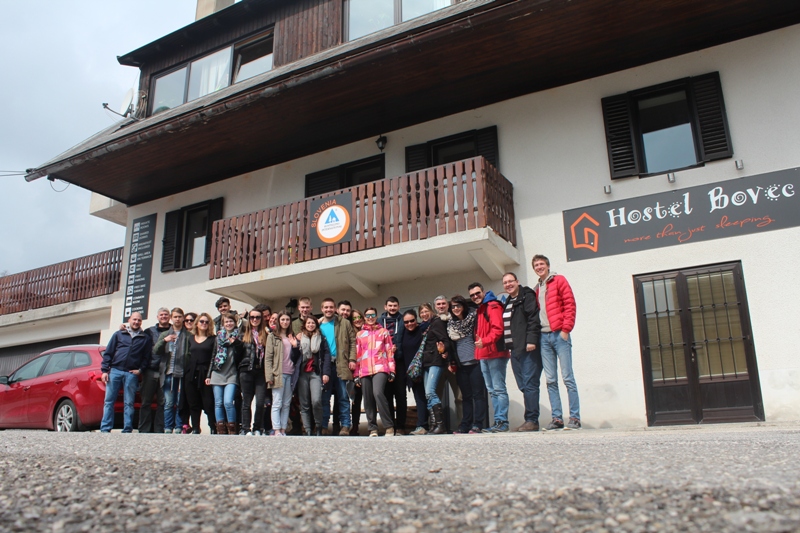 We set the rules, talked about the expectations and slowly formed groups, through didactical motoric games, to write projects. We were brainstorming, and wrote down ideas to a blackboard, those we thought would be successful, so other people could learn from them. Some ideas:
- Recycling clothes to raise awareness about the pollution of the planet.
- Refugees and socialization of individuals in a new surroundings.
- Surfing, sport activities in the sea, importance of the sea and its effect for the individuals of various countries, environmentalism, healthy life style, safety during sport.
- How to act during crisis, how to react to traffic accidents, how to defend yourself from burglers, how to help in various situations that are unusual?
The couches introduced how the
Erasmus+ programme
works. It's a programme that offers individuals within EU different possibilities, such as the European volunteer service – EVS, youth exchange and training of youth workers.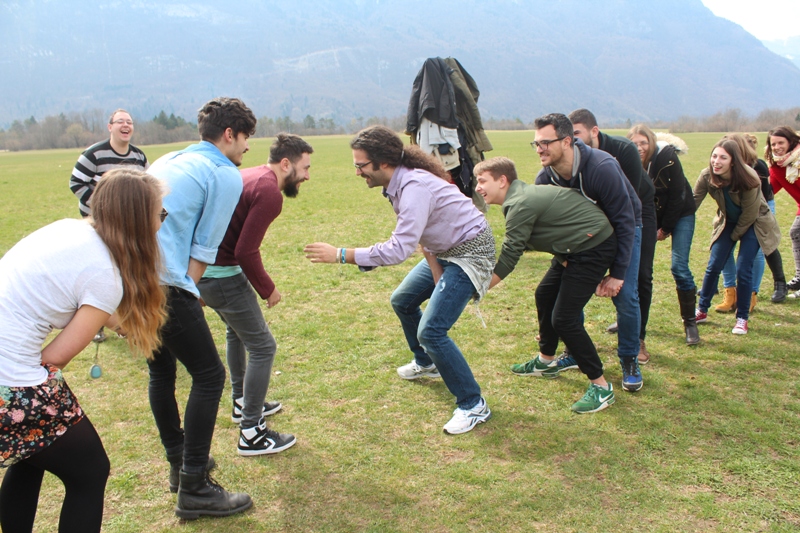 The duty of our meeting was to write a project and fill out a form, which you must submit while applying for a project. The coaches presented documentation, gave advice and told us hot to fill it out, as well as gave us a few secrets and helped us in how to create a successful project.
Work was in groups and in English, which is also a great possibility to improve your language skills and comprehension. There was a lot of work, but writing projects, setting Gantt charts, problem solving and general project day-to-day and risk management during the implementation can become fun, if you're in a great company. We were looking for ways how to motivate individuals, who'll participate in our projects. This is generally done through motivational and didactical games, presentation of the cultures of participants, motivating, animating and knowledge transfer, and last but not least – different ways of getting the job done!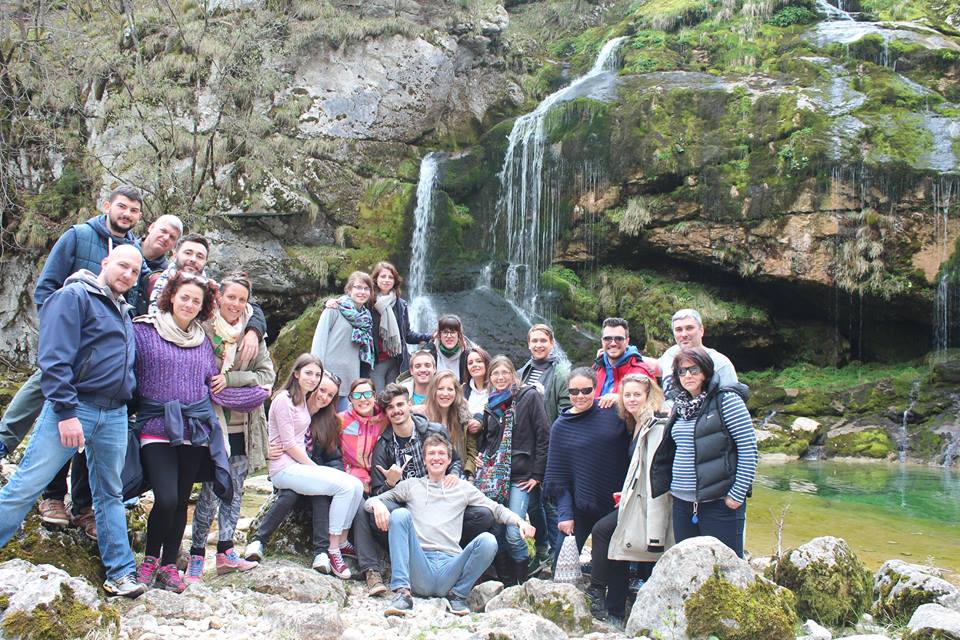 We spent the morning for catching some sun and have activities in nature. One afternoon was the time to go to the Virje waterfall and the spring of Gljun. It's a great location for refreshment in a hot summer. On the Soča river you can have many activities – rafting, paddling, kayaking over white waters, but if that's not enough for your adrenalin buzz, you can go to one of the two zip lines park, and try yourself at steel ropes. IF you got too hot doing it, you can go canyoning on the rapids that will cool you down. In case I didn't convince you yet, I can still suggest the monster roller from Kanin, paragliding from the surrounding peaks, skydiving, tubing in the river, hydrospeed over the rapids, mountainbiking, hiking… something for everybody! And they're currently building an adrenalin park, which will add new offer to the family friendly Bovec, so that even the youngest will have a chance to try out new activities. I want to return there in the summer as well, when nature will be at its finest. I suggest you do to, and by saying it's really better in person than on a photo, I don't exaggerate.
And what was going on in the evening hours? All representatives were giving others insights of our own culture, in a new and innovative way. We had a game show on how well we know each other's countries, and we learned a whole lot by doing it. We saw different clips, talked about the attractions of countries, shared our own, gathered new knowledge, compared cultures, but above all – enjoyed! Everybody served some food or drink they brought from their own country – yummy!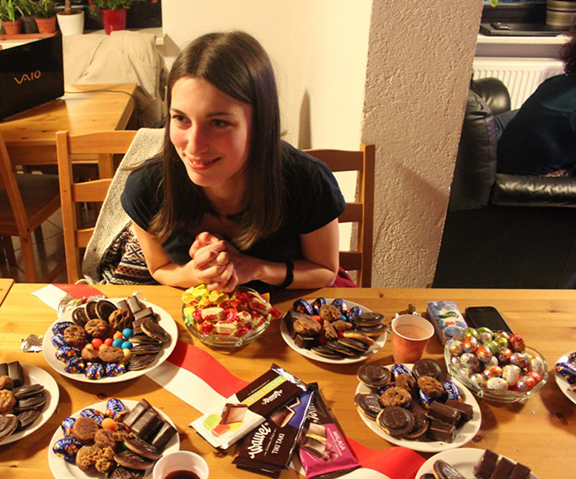 Participants applied for the project through their organization that helped them achieve the participation and getting there. So one of the evenings was dedicated to present each organization: Popotniško združenje Slovenije, Sdruzhenie Art inovacii za mladite, Foundation Chadoo, Youth Beats Of Lithuania, Amigos de Europa, Asociatia Tinerii 3D, and Youth4youth. Every evening we had an evaluation and handed in a report, which was a key point of the learning process, which allowed an individual to recognise the newly gained knowledge and experience. With the help of evaluation we can also find out what the weak point of the program itself are, which we can overcome later or and better adopt to the work in a group and the needs.
We've reached the goals of the project, found some great ideas for innovative project proposals, wrote them down on paper for others, who were not there but would be interested, we've prepared a
brochure
with tips on how to make one's own project. From Bovec we headed to Postojna and visited the
Youth Hostel Proteus
, part of the school centre dorm and presented our work and ideas to the students there. This was also the last of the 10 day meeting. By visiting Postojna Cave we spent the last hours of our hanging out to wish each other a safe journey back home, with tears in our eyes. But we'll meet again, dear reader. In the next issue of Globetrotter I'll tell you about the game called No Bob and how people, who can hardly wait to talk about it, reacted to it.
Bojana Bukovec